TV Work


In 2018 Paul Metcalfe joined the presenters at "Benham.TV" Paul is very excited to be part of Benham TV which all came about from a chance meeting while Paul was hosting a huge Charity Gala for the Princes's Trust. It was here Paul was reunited with his good friend former co host collectables Guru Garry Gazza Ashburn. "Garry has always known about my passion and love of all things geeky, Si FI and fandom and asked me if I would like to be involved and when he told me some of the shows he had in mind for me I was just so excited. Since arriving at Benham.TV I can quite honestly say it's been my favourite project I've been involved with up to date and I'm so pleased to of been reunited on screen with my good friend Garry "Gazza" Ashburn" Benham.TV covers so many different genres of collectables. Paul has recently shot one hour shows on Music legends, Harry Potter, Dr Who, Star Wars & Marvel DC Legends But the channel has something for everyone including Game of thrones, Wrestling, Boxing, Royalty, The RAF & TV + Film. You can find Benham TV on our new Sky channels 676 431 & 192 and you can watch & share any of the programmes you like 24/7 on demand at www.benham.tv

Paul Metcalfe joined Quiz Show Bingo in June 2011, an online Bingo site that later evolved into Lights Camera Bingo.
Quiz Show Bingo was noted as an exciting new kind of Bingo website, combining live presenters with quizzes, instant games and Bingo; all for cash prizes!
As one of the Live entertainers on the site, Paul swiftly engaged with the players and entertains them every week with an innovative variety of games, anecdotes and diversions such as horoscopes and celebrity gossip. He also appeared on an advert for the site that aired across the nation as both an onscreen actor as well as providing voiceover work as a narrator.


Paul has joined the presenting team and became a licensed Croupier at Smart Live Casino. Smart Live Casino launched in 2007, As a licenced cropier Paul spun the roulette wheel every 60 seconds, and dealt cards every 30 seconds (but not at the same time), on Sky channel 869 Paul left Smart Live Casino after 2 years to move onto exciting new challenges.



Presenter for "Scene South TV".
Paul hosted a monthly Magazine show called Scene South TV it brings you the best guide to what is on in and around Southampton & the South Coast of England. The show has fun features, Monthly movies reviews, live performances, interviews & competitions. The show is produced by Southampton University. The shows were included in the content of the Southern Daily Echo Web Site.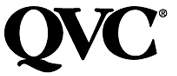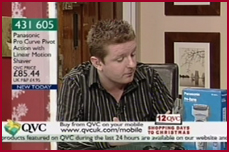 Paul is a guest Presenter on the number one shopping channel in the world QVC selling Toys, gadgets and Panasonic products.
QVC reaches 2.7 million home and they only hire the best guest presenters.
The channel broadcasts live 17 hours a day (the remainder being pre-recorded, highlight material) year round. Currently QVC UK has a market penetration of 15.4 million homes across the cable, satellite, and digital terrestrial platforms. By the platforms nature, satellite also relays the channel across much of mainland Europe.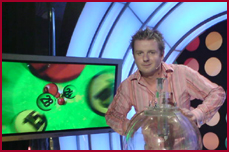 Paul started his TV career at Avago Balls. It was a live show that broadcast on the channel for ten hours every day.
It worked in a similar way to bingo with presenters pulling the balls and players buying electronic playing cards.
The interactivity was enhanced with text messages being read while the balls were being pulled, a daily poll on a topical issue voted via the Sky remote again while playing and special prizes such as a weekly draw.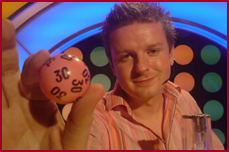 Paul left the channel in December 22nd 2005. when Yoo media announced the sale of Avago to the gambling operator Gala Coral and the brand was changed to Gala Bingo.
Availability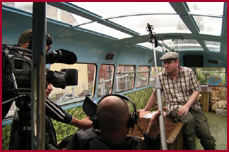 Paul is available for Studio shows, adverts, corporate videos and Educational programmes.
Paul's experience ranges from live studio, open talkback, and autocue, to OB and location shoots (pieces to camera with and without autocue).