Welcome to Paul Metcalfe.tv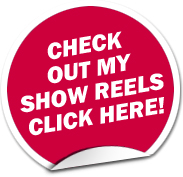 Paul Metcalfe is a freelance TV Presenter with 5 years experience. Paul has over 1800 hours of TV airtime.
He has hosted shows on the Sky Digital platform. Paul has also been involved with Shopping, Gaming and Participation Television.
Paul's experience ranges from live studio, open talkback, and autocue, to OB and location shoots (pieces to camera with and without autocue).

Paul is currently a presenter on Smart Live Casino, Sky Channel 869 and Melita 802 in Malta & London Family TV.
In 2009 he was selected to be a free lance presenter for the BBC, involved in training and development. So even in a recession Paul has carried on working! This goes to show how flexible his talents really are.